When you call 911 for an emergency, you don't expect them to go out and build an ambulance prior to coming to your aid do you?
Of course not! That would not make any sense and would defeat the purpose of having such a service. The whole idea is to have a system to allow for emergency personnel to be contacted quickly and respond in the same fashion to save lives.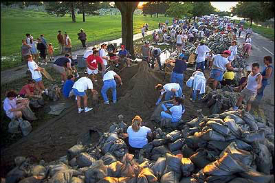 Why would emergency flood control be any different?
By having the SandMaster Sandbagging System ready and available, large quantities of sandbags can be filled and placed quickly and efficiently with a fraction of the workforce typically required in sandbagging operations.
When you need it, you need it, so don't wait until your community is threatened by flooding to start building the ambulance.
Get the most efficient sandbag filling system on the market today and know you will be ready to respond to the emergency tomorrow.
The difference between PRESERVATION & DEVASTATION is the quantity of sandbags in place